Increasing Conversions with Interactive Email and AMP
with Matthew Smith, Founder of Really Good Emails

There is a lot of hype around AMP for Email. But why?
Interactive, dynamic emails can deliver indisputable results over your traditional emails, increasing engagement rates by as much as 300%, and doubling conversions! These are facts, not theories.
In this webinar we discuss AMP examples that have been proven to significantly impact email ROI. We also discuss some of the new opportunities we're just beginning to experiment with in AMP emails, and how they will deliver massive ROI.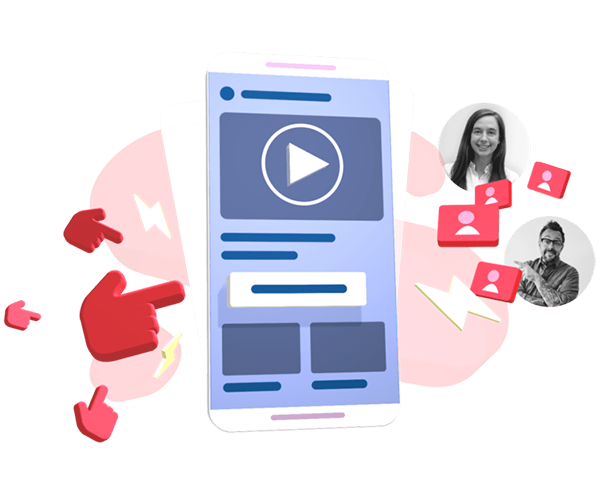 Matthew Smith
Founder, Really Good Emails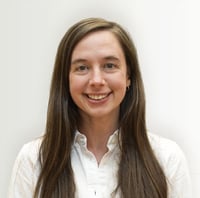 Veronica Best
Director of Product, Dyspatch
Webinar Summary
Dyspatch recently teamed up with Matthew Smith, Founder of Really Good Emails, to hold a webinar on how AMP and interactive emails can increase conversions. What follows here is a summary outlining:
Key points of the webinar

Some (lightly edited) commentary from the speakers

A Q&A section to wrap things up
What is AMP?
AMP for email is a third layer to an HTML email. AMP allows a user to respond to surveys, fill out forms, and reply to comments directly from within an email. AMP also has the functionality to update information in an email to show current data. As a result, users can view information such as the latest house or job listings in real-time.
Should You Invest in AMP?
All that sounds amazing, but is AMP for email worth the investment for businesses? In this webinar, Dyspatch Director of Product Veronica Best and Matthew Smith explore whether your company should invest in AMP. They do so by:
Weighing the pros and cons of AMP

Presenting some examples of interactive and AMP emails and the resulting ROI

Explaining the purpose of AMP fallbacks

Discussing future possibilities for interactive and AMP email
AMP For Email: Pros and Cons
Pros
Live and up-to-date
With AMP, you're showing live information that is current when the email is opened, instead of information that's expired. As a result, there's a lot of potential out there on both the transactional and marketing side. For transactional, you can communicate with users about things they want to hear about. In marketing, it's about exciting your recipients about what you're doing and building a relationship with the brand.
Improved personalization
As the email is targeted and segmented to the user, the recipient is going to see information that's personalized to them.
Endless use cases
There are many use cases out there already highlighting the benefits of AMP and impressive ROI.
Simplifies code
AMP simplifies coding because you're pulling information from a designated data source.
Reduces friction points
Forget about having to launch a browser or log into a service to complete a form or add to cart. Recipients can take these actions directly within an email.
New, but proven
Although AMP is new, it has a proven ROI. Sure, there's some up-front investment, but the benefits AMP offers in the long run make it worth the effort.
Cons
Proprietary technology
AMP is pushing email forward, but there are specific challenges. Although Google makes AMP available to businesses, it's proprietary and thus a closed system.
Limited client support
While there's not much client support for AMP yet, this is a challenge that can be overcome.
Restricted to recipient
AMP is restricted to those people who have ESPs that support AMP.
Accessibility
As not everyone can see an AMP email, it will then default to a fallback version (a static HTML email). This then begs the question: are you sending a "second-class" message to those people who can't access AMP emails?
Google must approve
Going through an approval process has the potential to stifle creativity for businesses that want to employ AMP in their emails.
Stats on Interactive Email
In a recent Dyspatch survey, over 50% of respondents said they like it when they can interact within an email. Even though respondents feel like they're getting too many emails, they hardly see interactive elements. This means that there's an opportunity to do more with it.
Veronica: What's the industry direction regarding email communication? Is it using interactivity or AMP to build those customer or client relationships?
Matthew: With email, you're invited to join a relationship. The future will be to focus on personalizing and targeting emails to users more easily to build that relationship. AMP tightens up that customer journey right within the email. The goal is to solve problems for customers. In turn, customers become loyal, they spend money and it drives commerce. We're just on the cusp of this change.
Examples of AMP and Interactive Emails and Their ROI
Here's some great examples of how AMP is a game-changer for both the company and the user.
Pinterest: In a small A/B test, Pinterest allowed users to pin right within the email and navigate around. Given the option, 20% more people were actually pinning within the email. Pinterest also started showing content in the email based on what users were browsing from one day to the next.
Google: Google opened up the ability to reply to a comment from an email as part of a thread. As Google tested AMP before rolling it out to everyone, few people realized this was actually AMP. It seemed more like a natural upgrade than anything else because it was so seamless and integrated. Once they started using AMP emails, Google saw a 500% increase in response to comments.
Nest: Nest's AMP email allowed users to pick items right in the email and add them to their cart. As a result, they cut out half a funnel. Users skipped having to browse the website, add to cart, and then be the focus of a retargeting campaign.
Veronica: Is the entire check-out process going to migrate to email?
Matthew: The future of email is to have the check-out process fully ready and available. The Inbox will become a logged-in, interactive state of the web, and that's when everything changes. Email is no longer a static artifact that just gets sent and that's it.
Booking.com: Booking.com uses carousels to show what's available when the user actually opens the email, not when the email is sent.
Veronica: Does this real-time information help drive conversions?
Matthew: It really depends on your audience's intent and focus. Reducing friction so people can take action is a win. Adapting your AMP emails to help people achieve their goals is important for conversions.
Booking.com also provides the ability to manage email preferences instead of just unsubscribing. Users can personalize the timing of emails. They choose what they do or don't want to see, such as horror movies, certain musical acts, and hobbies like riding horses. (People who don't have kids don't need to see ads for Huggies!) Adding a form at the bottom of the email can be huge in terms of impacting your business and ROI.
Stripo: Stripo did this amazing gamification campaign around Easter. If you solved the Easter egg hunt, they would give you a discount code. They sent a similar one with a crossword as well as an interactive postcard.
Veronica: Is it actually worth investing in fancy games with AMP for any reason other than it's cool and it's fun? We're also keeping in mind that accessibility is a priority and that not all recipients can play with games.
Matthew: People need to decide on something like this based on their audience. If their audience likes these kinds of things, go for it and do something fun. You should also think about resources versus results. Is this something that can be done in a simple way without too much stretch from the team? Can games like this be effective in email? And then there's continuity. If you're going to do a game like this don't just do a one-off. Create an environment where you can easily replicate the essential nature of the game for different holidays or experiences.
Doodle: With AMP, Doodle lets users book meetings and demos within specific time slots, showing live polls using real-time responses. Users have the ability to comment as well as add the date to their calendar. This example shows how fluid, dynamic, and relational AMP is. Essentially, it helps people achieve what they want and need to do.
Side note from Veronica: Shout-out to the Unspam conference by RGE where they showcased an AMP talk by a couple of email geeks. If you're interested in learning about more great AMP use cases, check out the conference here.
Fallbacks — Who Will See AMP Emails?
Fallbacks are the HTML versions of emails without AMP elements; they inform how you will build an AMP email. Dyspatch takes the stance that you should always have a fallback email to your AMP version. There are many scenarios where you'll need the fallback, including when:
AMP emails expire.

AMP emails expire after 30 days. If a recipient opens an AMP email 31 or more days after it was sent, they'll see the fallback version

AMP isn't supported.

Be aware that not all email service providers support AMP

AMP emails are forwarded.

AMP emails that recipients forward show only the fallback version. This makes sense, given that AMP email is all about very specific personalization
Veronica: Do you think businesses should start with the fallback and then build the AMP on top as a third layer? Or do you think companies should start with the AMP and work their way back to the HTML fallback? Where do we start with our intent when we're building a new email?
Matthew: It depends on your audience and what they're looking for. It also depends on how many people in your audience can receive and engage with AMP emails. Think of AMP as an enhancement rather than vital information. Your fallback should be your 100%, not your 50%. If your fallback is your 100%, let AMP be your 120% or whatever that enhancement is. You don't have to go big like Pinterest or Booking.com. If you take small steps, you can build a real case for doing more. Plus, fallbacks are way easier to test, as Litmus doesn't have a dedicated way to test AMP for email. Essentially, keeping it simple is a really good way to start.
Measuring ROI
Here's an example of measuring ROI that speaks volumes. Stripo sent a form conversion rate test to 23,000 recipients using a static email and an AMP email. The AMP version of the email was 5.2 times more effective at getting recipients to submit a questionnaire. This is opposed to having them open up the browser and submit the form the old way.
Veronica: Is changing where the activity takes place going to be an issue? How will it affect metrics if people are engaging more in email than on a website?
Matthew: Measuring ROI in email as opposed to websites is tricky. Metrics for website activity will go down because people are more active in email instead of logging into a site. We need better tracking tools for email and the same level of analytics that we have for websites. On the flip side, AMP can be helpful with those metrics. AMP can grab viewers' interest so they'll want to go to the website for a bigger picture or more detail.
Future Possibilities For Interactive and AMP Email
A few more future possibilities for AMP include:
Helping with abandoned cart issues

Showing product recommendations based on previous purchases

Providing suggestions on what to buy with loyalty points

Encouraging referrals in both a B2B and a B2C context

Inviting recipients to request a demo or register for a webinar

Making it easy for recipients to complete a survey
Veronica: Will we see more transactional or marketing AMP emails? Who should be leveraging AMP at this point?
Matthew: It's all part of the relational dynamic and the funnel. Marketing is the beginning of the funnel and transactional is the relational dynamic further down the funnel. The way that you use AMP for either is going to be different but equally powerful. Marketing uses AMP to ask more questions at the beginning of the relationship. As you gather more information, you can validate points and clarify that the interest is still there via a transactional approach.
Key Takeaways
Experimentation is Key
Try small enhancements first. That's the easiest way to start experimenting with AMP.
AMP will set you apart in saturated customer Inboxes
People still get way too many emails, even though it's easier than ever to manage your email preferences. So, standing out with interactive and dynamic emails will set you apart from the competition.
It's still the early days of AMP, but ROI is proven
The results from the use cases are huge and the opportunity is there.
Veronica: With AMP, are we in a 'Golden Age of Email'?
Matthew: When we have a dynamic, fluid interaction that honors what email is, we have a faster, more utility orientated experience. We are letting people have these engaging fluid interactions. When all of that is working, the ROI continues to skyrocket. If you do it well, you can experience that 42% golden metric. If you have the opportunity to take it even further, it's incredible. What stands in the way is some of these legacy clients, such as Outlook, that maintain a foothold. When that changes, everything really opens up. Right now email is complex. But, that complexity can be reduced to something like a webflow where people can create powerful little websites incredibly easily.
Q&A
Here are a few questions and answers from the webinar audience to the speakers.
Is AMP an open-source project?
Yes. But unlike other open-source projects, you need to get approved by Google to send AMP emails. Once your domain is registered, you can send AMP emails.
Thoughts about Outlook dropping AMP?
Outlook is not so much dropping support for AMP, but more so the resources to make AMP accessible and easy to test. Microsoft may come back around; it just may have been too early to invest in AMP.
How do you feel about having only one CTA in the email you send? How can you convince your clients to remove a lot of CTAs?
Run a simple split test. See what your audience connects with. See if you can get better engagement when there's less decision fatigue. Work with the people you have in front of you to see what they prefer. The simplest way to do that is to create the same content. Don't change the subject line or preheader; instead, keep everything as simple and straightforward as you can. Just change the number of CTAs to maybe one at the top and/or one at the bottom. See if you can increase the effectiveness of that single CTA.
Don't you need ESP support to send AMP emails?
Yes, and not all ESPs support AMP. We at Dyspatch use marketing automation platforms to send stuff out. ESPs that support AMP include Braze and Sparkpost. There's an up-to-date list on the amp.dev Google website of who supports AMP emails.
How much complexity and time spent do you think AMP email increases (on average) compared to normal static email creation and planning?
It depends what approach you take and how much familiarity you have with AMP. You're going to be building the regular HTML version anyway, so that part's a sunk cost. Adding the AMP layer may take a day or less, but from there it should be pretty quick. If you use a platform such as Dyspatch or Stripo, you can use pre-coded AMP blocks. That extra layer could potentially be ready in minutes. The hardest part is making the design work with HTML.
Do you maintain a list of companies that are using AMP in amazing ways? I know you mentioned Stripo, Pinterest, Uplers, Booking.com. Any other great examples or companies to subscribe to?
A great example is Indeed. They use AMP for job recommendations so that you only see live job postings. If the job posting closes by the time you open the email, it won't show up. Google use cases are great because they're using AMP to submit a form, reply to a comment, or add to cart. Hit up the Email Geeks Slack channel for anyone who's operating an email if you're not already part of that community.
Are there any impacts with AMP in regards to SPAM and deliverability?
Not that we've seen or heard. Google applies a lot of scrutiny to your application to ensure you're not sending a bunch of junk. So it's probably safe.
How complicated is it to get approved as an AMP sender? With BIMI, not every brand can get approved right now. Would AMP fall under the same situation?
In our experience, there wasn't a lot of back-and-forth to be approved as an AMP sender. It was pretty straightforward. Again, a lot of people are talking about this on the Email Geeks Slack channel.
This concludes the webinar summary on Increasing Conversions With Interactive Email and AMP by Dyspatch and Really Good Emails. To listen to the entire recording, click here.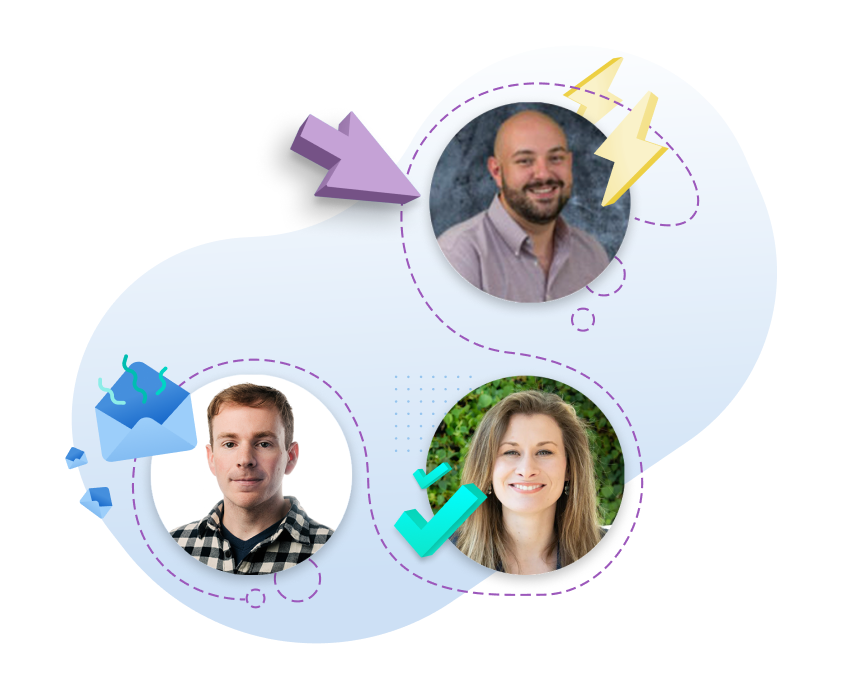 5 Ways to Skyrocket Email Engagement in 2022
How can you make sure your emails stand out in overflowing inboxes? Dive into 5 email engagement strategies from the industry's best and brightest.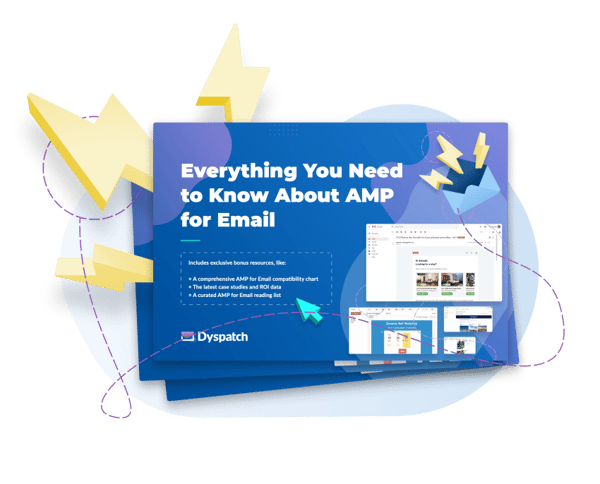 Everything You Need to Know About AMP for Email
Find out how you can 5x email engagement with live, interactive inbox experiences and get inspired by a wealth of use cases for every industry.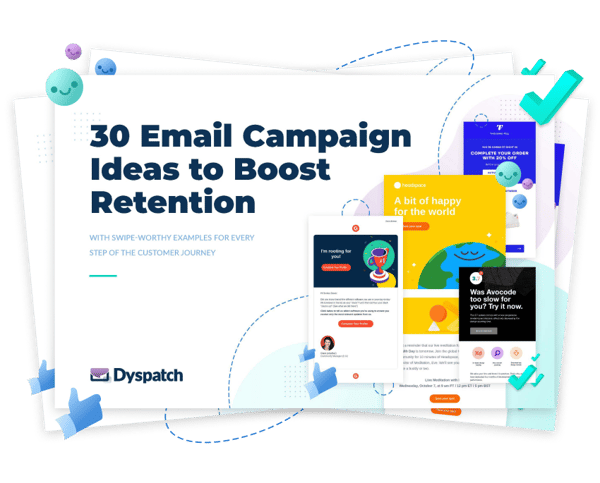 30 Email Campaign Ideas to Boost Retention
Explore 30 email campaign ideas to add to your retention strategy with swipe-worthy examples from brands building customer relationships right.